It's safe to say that we're all a little relieved to hear that our friendly neighborhood Spider-Man will be "sticking around" in the Marvel Cinematic Universe.  Tom Holland has truly given us someone to whom we can relate, someone with whom we can feel comfortable and a story that keeps us on the edge of our seat.  Of course, now we can stay on the edge of our couch because Spider-Man: Far From Home is now available on 4K Ultra HD™, Blu-ray™ & DVD!  Check out my final review of the film and then take a peek at some fun Spider-Man science activities down below!
---
This is in partnership with Team Click, who provided me with a copy of the movie to review.  All opinions, however, are 100% mine and mine alone.  This post may contain affiliate links.  Please see my Disclosure policy for more information.
---
Spider-Man: Far From Home is Ready to Take Home
I have had the chance to see Spider-Man: Far From Home twice ~ once in the theater and then just recently on the newly released DVD.  While I knew to keep my eyes open the second time for a few extras, the story kept me just as engaged, entertained and captivated throughout.
In Spider-Man: Far From Home, the follow on to Spider-Man: Homecoming, we meet up with our hero back in class.  Everybody seems to have had the time to transition well enough after the "Blip."   However, that doesn't mean that all the emotional turmoil has subsided.  The loss of dear friends is still felt deeply and it's obvious Stark's absence still affects Peter.
In an effort to provide himself a "normal" experience and take a vacation from heroism, Peter escapes with his friends on a school field trip overseas.  He has the trip all planned out in his head ~ all the way down to the delivery of a Black Dahlia pendant.  However, what he doesn't expect is to witness more life-altering events and ultimately be hunted down by Nick Fury, who pretty much demands Peter's cooperation.
New to the scene is a mysterious character who swoops in to assist in "saving the world."  Oh, c'mon.  That's no secret!  We all know there's always going to be a part in a movie like this where the world needs to be saved.
Now, I'll leave the rest of the story for you to uncover (just in case you haven't seen it yet), but pay attention to how Mysterio is introduced, what his superpowers entail and how he and Peter get along.
What I liked about the movie
First and foremost, I absolutely love, love, love, love, love Tom Holland (not sure how clear I made that).  Prior to his arrival in the MCU, I had dramatically sighed with every new Spider-Man movie made.  Holland is truly the perfect combination of timid, awkward and determined ~ all qualities his character Peter Parker possesses.  In this particular film, Holland does such a fantastic job demonstrating the struggle between managing his grief, being a teenager, making the most of life's moments and weighing his tremendous responsibilities.  Tom Holland IS Spider-Man….and I don't think anything will ever sway me from believing so from here on out.
Okay – back to the film.  I also loved the story-line they gave Mysterio.   No – I won't spoil it, but oh, my gosh!  It was absolutely brilliant and I actually never saw it coming.  Jake Gyllenhal is absolutely masterful in the role.  Now, let's be honest.  My boys clued me in on the backstory and they certainly had their thoughts and educated guesses.  However, nothing prepared us for what actually played out.   Oh, you may THINK I'm leading you down a particular road of thought…but trust me.  You have to see the movie to understand where I'm going with this.  It's absolutely BRILLIANT!
And Happy ~ oh, Happy!  I'm soooo glad Happy was in this movie.  Jon Favreau makes me smile and his presence in the film beautifully keeps Stark connected to Peter.  It's a nice way of saying, "I've got you, kid."  Don't you think?
So, let's talk effects for just a brief moment…
The digital effects in this movie are phenomenal.  From web shooters to the Elementals, everything appears exquisitely real to the audience, so watch your jaw.  It may drop a few times as each scene builds.
Oh, and skip this next line if you don't like spoilers…….
I even love how they explained certain effects within the film…pure awesomeness.
What I didn't like about the movie
To be honest, this was one of those pictures where there really wasn't much I didn't like.  I mean, there are characters I wouldn't consider my favorites, but that's not a reason to say I didn't like them, per se.
Okay, okay….wait.  Yeah, there was one part (or aspect) I didn't care for too much.  Ned and Betty.  Why?  Just why???  (No, I didn't give too much away…..just go watch it!)
Two Fun Things to Notice In The Film
So – this is fun.  We all love Easter Eggs ~ those moments hidden within a film for us to uncover and keep us engaged.  Well, these may not have exactly been Easter eggs, but here are just a few fun facts about the movie that may have you paying closer attention.
During the teens' excursion in Venice, right after MJ is photographed with birds, take a peek behind Peter and see who is standing there.  Hmmm…..

Also, the role of William Ginter Riva is a recurring one in that this character was in the original Iron Man as a scientist working with Obadiah Stane.  If you take a closer look into the eyes of the actor playing the role, you may very well find a boy who desperately wanted a Red Rider BB Gun for Christmas.

BE SURE TO WATCH THE END CREDIT SCENES!!!!!  Yeah – it will explain a lot about Fury's behavior.

There are also several nods to classic Spider-Man comics revealed in various license plates in the movie.  If you're a comic book fan, be sure to check out Fury and Hill's car, as well as Aunt May's. 
Oh, there are so many interesting tidbits….I wish I had the time to share them all!   
Check Out These Spider-Man Activities!!
In celebration of the movie's at-home release, I have this really fun Spider-Man science activity button to share!!  Simply click on the graphic below and download three Spider-Man related activities your little STEM gems will love to perform!   Don't worry ~ nothing blows up….I think.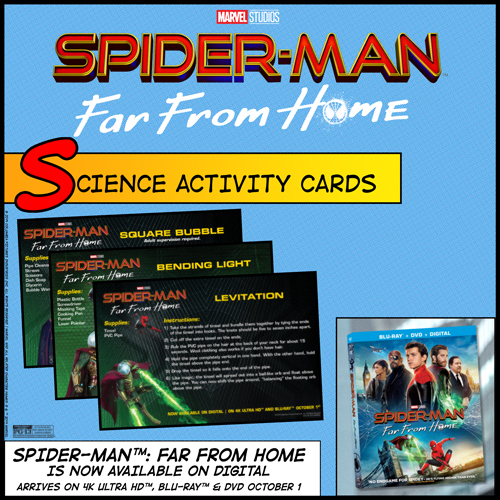 Be sure to follow Spider-Man: Far From Home:
DON'T FORGET SPIDER-MAN: FAR FROM HOME IS OUT ON 4K ULTRA HD, BLU-RAY AND DVD!
Then check out these Mysterio Cupcakes!!!  Yum!!
**All photos used with permission (Columbia Pictures, Sony Pictures) in partnership with Team Click.
---
BE SURE TO FOLLOW FOOTPRINTS IN PIXIE DUST ON: