Disney+ has officially launched and millions are streaming their favorite classics, along with the magical new additions.  As the holidays kick off around the world, one of the Disney+ newbies being streamed is a Christmas tale entitled Noelle.  The movie stars Anna Kendrick and Bill Hader (as well as Shirley McClaine) and brings multiple ideas to the holiday table that give us something to think about this Christmas season.
---
This post also contains affiliate links. Please see my Disclosure policy for more information.
---
Disney+ Kicks Off The Holidays With Noelle
So, who exactly is Noelle?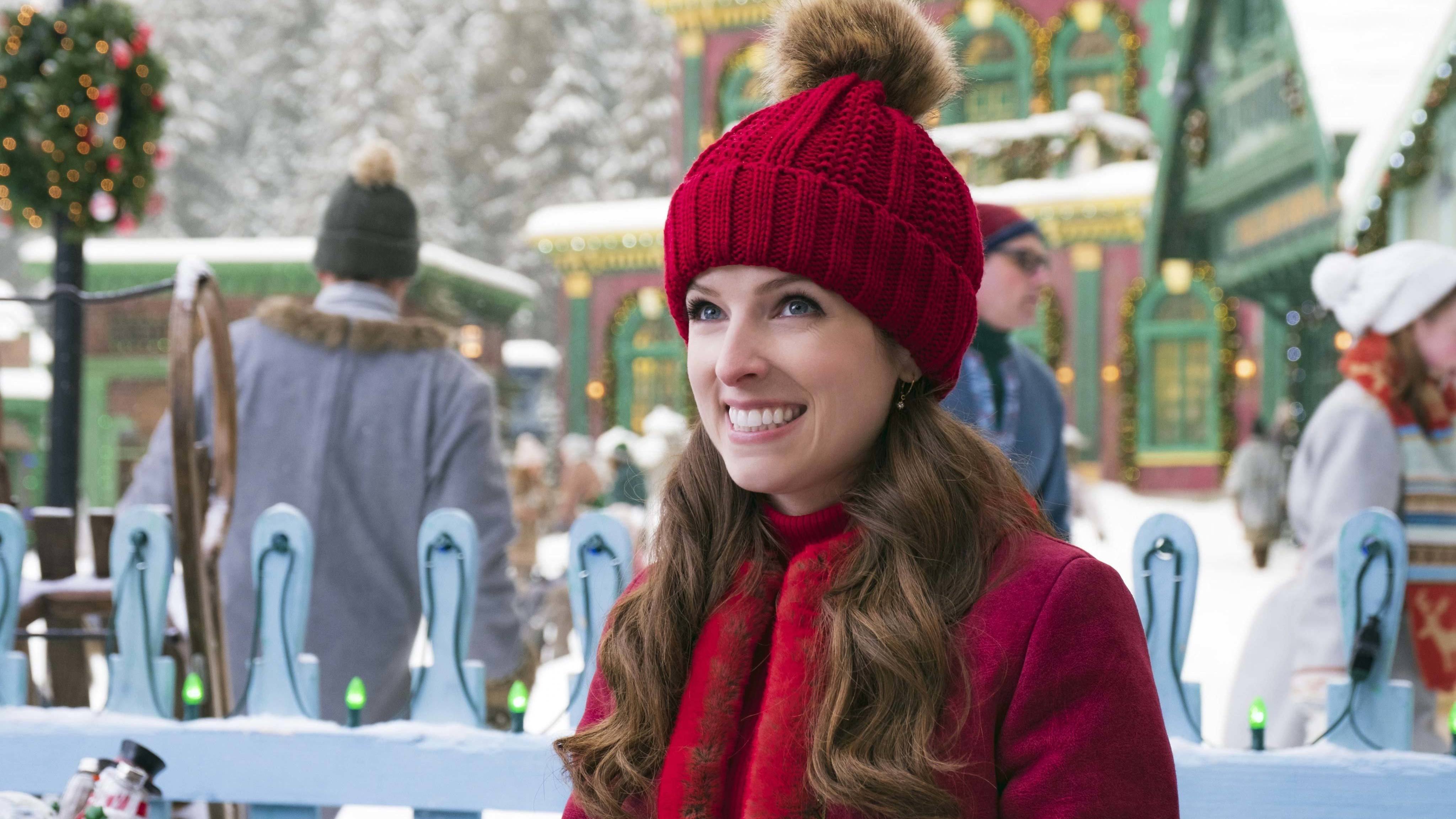 Well, here's the gist.  Santa got married and had two Littles!!  Noelle is the youngest of the two current Kringle offspring and grew up believing her father had one of the best jobs in the world.  In fact, she loved what he did so much that she always dreamed of emulating him when she was old enough.
However, her older brother, Nick, was the one to whom the hat was passed.  So, with a somewhat heavy heart, but loving acceptance, Noelle supported her brother in his new endeavor when the time came.
The question is what was Noelle to do with all the love and gifting that she herself possessed as a Kringle.
Let's Take a Different Approach This time…
Instead of doing a "what did I like, what didn't I like" kind of a format this go round, I thought I would branch out and share my takeaways from the new holiday movie.   I mean, I did like it – in fact, I loved it.  It is likely going to become an annual tradition for our family to watch this movie during the Christmas season.  Of course, being someone who reviews films on a somewhat regular basis, I can always find a thing or two that I didn't like or would have done differently.  However, I really don't want that to be the focus for this post.   
Suzanne Todd, the powerhouse behind this movie, did a great job making sure the movie balanced social issues, the holiday spirit and family relations.  In fact, the movie was so effective that it actually had some standout takeaways for me personally.  With the number of heartfelt messages built into the story-line, I figured sharing them would probably have a greater impact that sharing what I liked and what I didn't.
What do you think?  Sound like a plan?  All right ~  let's go!
T's Takeaways From Noelle
Takeaway #1 ~ Christmas isn't jolly for everyone
Oh, we're starting off with one that sounds sad.  Yeah – I know, but it's the truth and something we need to grasp.  I mean, it's not like it's difficult to recognize that there are those whose situations are not ideal holiday scenarios.  Over the course of a year, some have experienced divorce, loss of a loved one, crises with their job, and various health changes.  However, I humbly confess that I tend to focus so much on my own holiday happiness that I forget that there are those who are struggling this time of year.  Whether it's a memory or a current personal tragedy, there are those who aren't experiencing all the joy that should be infiltrating our lives this season.
So – what do we do?  We can find a way to bring joy to them.  No – don't invalidate what they're going through.  Just give them one or two reasons to find a smile or to believe in the Christmas spirit again.  Imagine how you would feel if you were in that situation.  How much would it mean to you if someone took the time out of their busy schedule to simply recognize you could use a smile, too.
Takeaway #2 – The importance of an encouraging word
Yes – we need to learn to be self-sufficient and follow our heart and dreams no matter who supports us.  It's important to be able to stand on our own two feet and make our own happiness a reality.  However, let's not kid ourselves.  We all know that hearing an encouraging word from a true, genuine and loving friend certainly helps to fuel the fire inside of us.
When a friend turns and shares words that encourage or validate our dreams, goals and values, it lights us up.  It energizes us to keep pushing forward.  It's a different kind of energy than the one we draw from within ourselves.   This kind of energy is blanketed in love and acceptance and provides us with a cushion of support to fall back upon if we need it.  It gives us the confidence that we are walking down the right path ~ and not walking alone.
We could all use a friend or ten like that in our lives.  Don't you think?  How about BEING that friend, as well?
"Sometimes, all you need is a nice word from a friend to make you feel comfortable in your own boots." -Noelle (Anna Kendrick)
Takeaway #3 – Everyone should have the opportunity to follow their own dreams
Not everyone is going to grow up to be whom or what their parents expect them to be.   We've worked hard at looking at the gifts our boys possess and listen to their goals and aspirations in life.  If we force them to be something they are not, it will only bring them misery.  That wouldn't be helpful in the least.  This whole holiday movie is about bringing joy to people – so let's face it.  If we let our children become what their hearts are leading them to be, it will bring joy to more than just them because their smile and their happiness will be contagious ~ and they will likely be more effective at what they do.
In the movie, we see this scenario played out for a variety of the characters portrayed.  I know of at least four who learn to follow their own hearts and dreams ~ see if you can figure out who or even if I missed one or two.
Takeaway #4 – Giving IS better than getting
Yes, that's a tough pill to swallow sometimes, but the smile your heart wears after bringing one to the face of a child who didn't expect to see a Christmas present this year ~ priceless!  It will instill within you a feeling that cannot be matched.
I like to think of Christmas as an extension of Thanksgiving – the second chapter, the reaction.  We spend the entire month of November focusing on being grateful for the things we have in our own personal lives.  Once we celebrate with our family and/or friends, it's time to act on that gratitude and begin to pay it forward a little more.  It's time to GIVE someone else a reason to be GRATEFUL.  While we should be giving on a regular basis, this is the time of the year where it seems to shine the most.   Only that light will be brightening up someone else's life and not our own (though, that happens naturally as a side effect of our actions).
The character Anna Kendrick plays, Noelle, was just like the rest of us.   She is all into getting the presents.  However, once she opened up her heart to understanding how others are living, she saw what giving to others could do.  She saw how it could change the scenario in a positive way for someone other than herself.  That's a lesson we could always stand to learn over and over again.  
Takeaway #5 – Traditions change ~ and that's okay
It's a very rare story where life stays the same – no adjustments, no changes whatsoever.  We all grow up.  We all experience loss, gain, moves, alterations in family scenarios.  It's not always easy to accept those changes, especially when traditions are involved.
Now, the definition of tradition implies a long-established custom or belief that has been passed down through the ages.   What we need to remember is the word "long-established" itself is not defined or have a specific length of time attached to it.  "Long" could mean five years, it could mean twenty.  In this movie, it could mean centuries.  LOL. 
However, when life's picture is adjusted and other things come into focus, it's important that we look for the opportunity to find new ways to celebrate.  It's okay to find new traditions that create new memories for us to carry with us through the years.
For us, we've moved 12 times in 23 years of marriage.  We've established a few traditions that have been able to survive throughout the years.  However, with each move, we've had to make adjustments in each of them.  Now with one off at college and another leaving soon, I'm personally realizing that I (as a mom) have to accept some inevitable changes that are coming.  (sniff, sniff).
 "…if you know what Christmas means to you, the tradition's just the wrapping." Noelle (Anna Kendrick) to Jake (Kingsley Ben-Adir)
Would I recommend Noelle to everyone? 
Absolutely – beyond a shadow of a doubt!  I actually loved this movie from beginning to end.  It was clean and thought-provoking.  I never found myself bored and I truly enjoyed the characters that Anna Kendrick and Bill Hader played.  Shirley McClaine was even entertaining in her role as Polly.
I was impressed with how Suzanne Todd brought women to the forefront without discrediting men.  I enjoyed how it was a family affair and how support was carried out.  There was no true enemy, there was no villain.  Sure, there are people with different ideas, but there's a way to find a place for each of them.  This movie did that.  Kudos!  
There Is One Thing I Think Parents Should Know…
This one is big and important for parents of Littles, in particular.  The movie does address the topic of Santa Claus…(gulp)…dying.  I actually gasped when I heard it at first, wondering how parents would begin to explain this to the younger generation.  I mean, that's a pretty heavy topic to cover on a holiday movie about a figure many children look to this time of the year. 
Fortunately, they portray that aspect fairly well, but I did feel it's important to just know it is in there.  It happens early on in the movie, but it may generate some questions.
Oh, and the idea of Noelle's role later in the movie may also generate a few questions.  The movie addresses it, too – but just be prepared.
Final Thoughts
If you're looking for a good holiday movie that motivates you to get out there and spread some Christmas cheer, be sure to add Noelle to your must-see holiday viewing list.   It's festive, colorful and full of motivational messages that will get you thinking all the while being entertained by the magic that is Disney.
Of course, here's hoping you are already familiar with the idea that Disney+ is a fantastic new way to watch TV!  Whether you're a Star Wars fan, Marvel fan, into Disney Classics or love the originals being created – be sure to check out what Disney+ offers today!  
Catch my other Disney+ reviews and interviews!!