It has been about two decades since Hubby and I walked around Myrtle Beach together as newlyweds.  Oh, do I have fond memories of those days!  However, at that point, they weren't spent finding "family friendly" activities to enjoy.  I mean, we had only been married two years and were still without Littles.  Fast forward to present day and we have three growing boys (two still at home) to think about when we travel as a family.  Finding destinations that have the ability to pique all of our interests is a task and a half.  So, imagine how pleasantly surprised I was when I began to rediscover Myrtle Beach and realized how many family-friendly activities there were for a family with teens!  Thanks to Vacation Myrtle Beach, we were able to cross things off our family bucket list we never knew we had on there!
---
This is a sponsored post in partnership with Vacation Myrtle Beach.  All activities and accommodations in this post were provided in exchange for a review of our experience.  However, all opinions in this post are 100% ours and ours alone.  This post does contain affiliate links.  Please see my Disclosure policy for more information.
---
Family- Friendly Myrtle Beach
We arrived on a Thursday evening after an eight hour drive up from Central Florida.  It's a good thing our family loves to road trip!!  Right?  Our home for the weekend was The Caravelle Resort and we had the pleasure of staying in the main building across from the registration building.  To give you a clear picture, the resort itself has nine buildings in total.  Ours towered over the Atlantic coastline and had one of the best views of the open sky and ocean.
No, I'm not kidding!
We took that first evening to relax and get ourselves acquainted with our room, the resort and our schedule, since the next few days were packed with excitement, entertainment and endless fun.
Traveling with Teens…
If you've been following our journey at all, you know that we have three teenage boys, two of whom are still at home.  That means any trip I plan has to have something exciting or they will be bored to pieces.  When that happens, I take the chance of hearing nothing else except endless complaining.
So, to prevent such a conundrum this trip, I chose activities that centered around adventure and new experiences.  I wanted us to do things we never thought we would or could do together as a family.  I wanted us to explore, learn and create vivid memories that we would be able to talk about at holiday dinners for years to come.
So – what did I find?  What did I work out activity-wise with our wonderful Vacation Myrtle Beach representative?  Take a quick peek below at a few of the family-friendly adventures we enjoyed and the one Hubby and I did all by ourselves!  (yes, without a chaperone, too – are you impressed?).
As a Family…
1. Ripley's Aquarium
Ripley's Aquarium was our very first fun stop of the trip.  While we have strolled through aquariums before, it had been quite some time and the idea of visiting a Ripley's something or other fascinated the boys.  We literally spent hours roaming in and out of each exhibit within the venue.
To start our self-guided tour, we chose to head into the Pearl Harbor exhibit.  Hubby, being retired military, always finds exhibits like this intriguing and we spent a good deal of time in there reading and tinkering with the various displays.  The walls tell the story of this tragic event in history and the displays offer an opportunity for littles to connect with the older generation as they climb and turn and press and listen.
From there, we made our way to the shark tunnel, passing some fun photo opps along the way.   Yup – these crazy kids are mine!
I'm not complaining – this is how you have fun with teens!
I personally enjoyed walking through the shark tunnel.  It provided a unique perspective on how marine life live together in the water.
Other exhibits we explored during our time there included Planet Jellies and Ray Bay ~ both of which gave us an opportunity to get up close and personal with some of the sea creatures there.   Three of us touched the backs of moon jellies, but we weren't so lucky with the stingrays.  They just weren't interested in visiting near where we were sitting.
In the center on the bottom floor, however, there was also a pool filled with Horseshoe Crabs!  Oddly enough, I was the only one willing to take the time here to pet one for a little while.
Now, if you're adventurous and want something unique to do…
The Aquarium offers a variety of a camps, marine life encounters and even a Glass Bottom Boat adventure.  The latter puts you in a boat out over a large water tank above the shark tunnel.  From your seat in the boat, you can stare down to watch shark and fish passing by underneath you.
Ummmm ~ I wasn't brave enough to take on that adventure (though wait until you see what we did do later in the weekend).
Ripley's Aquarium was a few hours well spent for the four of us – yes, even the teen boys!  Fortunately, my boys have always enjoyed learning something new and experiencing something they might never have thought to try.  This place can be an educational gold mine, as well as a place to create fun memories for families with kiddos of all ages.  Even my big guy (you know, the one I married…) had a great time!
***********************
***********************
2. The SkyWheel Myrtle Beach
Up, up and away!!  Well, not quite, but we did find ourselves 187 feet up in the air with absolutely stunning views of the Atlantic coastline.  The Skywheel is an iconic Ferris wheel that gives its riders a unique birds-eye view of the hotels that line the beach and the vast waters of the Atlantic Ocean.  The attraction opened in May 2011 and was the first of its kind in America.  That's a pretty awesome title to carry!
The Skywheel holds 42 gondolas, each accommodating up to about six individuals (1300 lbs total).  Each is also capable of accommodating wheelchairs and scooters (with the exception of the VIP gondola).  What is really sweet is the fact that each one is temperature-controlled.   So, if it's warm outside, it will be cool inside.  If it's cool outside, it will be warm inside.
Okay, confession time…
Heights like this are not "high" on our family's priority list of activities to seek out.  A good handful of us (I won't name names) aren't too keen on being that far off the ground.  However, we braved the experience together anyway.  Fortunately, the Skywheel operators do not place strangers together in a gondola, so it was our party of four and that was it.  Phew!
The site says the average number of rotations is about four.  Surprisingly, we went around about five or six times.  Bonus, right?  The first few times we went upward, you could see a few of us with our knuckles turning white, but we all seemed to loosen our grip on the comfy seats with each rotation.  To be honest, the ride as a whole was very smooth, rather comfy and actually breathtaking!
The views were spectacular!  Oh, my goodness!  You can see for miles and miles out across the ocean, down the beach north and south, and back west quite a distance.  The horizon was so crisp and defined.  Had it been time for the sun to set, we would have seen the most beautiful front row seat for the day's curtain call.
UH-OH! 
Okay, so let's say you find yourself not so much a fan of those heights and want to cut your ride short a rotation or three early.   Fortunately, there is an emergency call button in every gondola that guests can press to notify the operators they are in desperate need of exiting the car.  Don't press it too quickly, though ~ you may find yourself a little more comfortable with each trip around.
***********************
***********************
3. Brookgreen Gardens
I had a friend who visited Brookgreen Gardens just a few weeks prior to our arrival in Myrtle Beach.  She did a Facebook Live from the grounds there and I just fell in love with the idea of visiting.  Brookgreen Gardens is home to over 2000 works of art created by over 400 artists.  It is also a wildlife preserve.  If so desired, it could take any guest an entire day to walk the grounds, study the art and enjoy the creatures and critters who call this place home.
Sadly, our particular adventure took place in the rain, and rain in October in Myrtle Beach is a little chillier than rain this time of the year in Florida.  Still, we wanted to see the fountains and sculptures, so we braved about thirty to forty-five minutes of walking in the light rain to grab some beautiful photographs and read about some of the art.  We had to save the nature preserve for another trip.
The sculptures were exquisite and the lush scenery was the perfect backdrop for each of them.  The fountains were clean and the sound of flowing water is always a plus in my book.  As an FYI, for those with Littles or even those who have teens, there are many sculptures bearing the human frame in its natural state – so you've been warned.   Our boys handled the personal tour with extreme maturity – for that, I was grateful.
Needless to say…(the above is not one of the sculptures to which I was referring) 
The artistry of both the landscaping and the artwork was jaw-dropping.  This would make for a beautiful romantic walk or a quiet journey for someone who wanted to simply enjoy the tranquility and beauty of nature.  I personally could have spent a great deal of time here alone with my thoughts (as dangerous as that might be).  Honestly, I do hope to return some day.
***********************
***********************
As a couple…
Believe it or not, Hubby and I stole away to spend some time together during our stay.  The boys had some homework they wanted to get done before the weekend was over, so they stayed up in the suite while the two of us escaped to Duplin Winery.
Duplin Winery
Duplin Winery is the largest producer of muscadine wine.  If you're not familiar with muscadine, it's one of the sweetest grapes around and makes some of the sweetest wines out there (which makes it very difficult to sip slowly).  Duplin Winery sits on Hwy 17 and has a full store, a patio with a bar and musical entertainment, and the opportunity to enjoy wine tastings.
The two of us joined two other couples along with our bartender, Matt, in one of the four tasting rooms.  During that time, Matt educated us on the finer points of muscadine wines and provided us with approximately twelve different wine samples to try.  All the while, we were munching on homemade chips / crackers and a delicious dip made with cream cheese and a muscadine pineapple habanero salsa.
OH – EM – GOODNESS!!!  Yum! 
If anything, this event taught Hubby and me something very valuable.  We are both suckers for the sweeter wines.  In fact, we don't care for dry wines at all.  So, there – we can say that we learned something pretty deep about ourselves on this trip to Myrtle Beach!
For those who are connoisseurs, Duplin Winery offers a membership club, which provides discounts and a variety of other perks.  For more details on that, feel free to click here.  They also honor the military and provide discounts on purchases to those who have served in the US Armed Forces.
Duplin Winery was a gem of a find for the two of us ~ a very special place to escape.  In fact, we enjoyed our first visit so much, we went back the next night to enjoy one more glass of sweetness before the trip was over.
***********************
***********************
Looking for a place to stay…
The Caravelle
As noted above, our host, Vacation Myrtle Beach, arranged for us to stay at The Caravelle Resort.  The resort itself consists of nine different buildings, ranging in accommodation types and styles (from efficiencies to suites).  Our reservation had us in the main building across from registration and we stayed in an oceanfront executive suite.  This served us well for many reasons!
Our room was designed to provide the best of views!  Upon entering the room, we walked directly into the main bedroom that held two double beds, a dresser, a small flat screen television and a closet.  The view from the window there was that of the west, providing a picture perfect horizon during sunset.  From there, we walked through a full kitchen, equipped with a stove, oven, full refrigerator and double sink.  Plates, utensils, cookware and more were found in the cupboards.
Why is a full kitchen awesome?
For a food allergy family, a full kitchen is a blessing!!  We were able to prepare food for our son to have on hand just in case a restaurant or venue had nothing he could eat safely.  We were also able to save money on the trip by cooking full dinners and enjoying breakfast right there in our room.
The bathroom to the left was divided into two separate rooms – one holding the full tub/shower and the commode, the other a sink with a long counter.
Walking even further, we found the living area with a couch, chair, dining room table and accompanying chairs, another dresser and a television.  Here's a Facebook video giving you a tour of where we stayed:
ROOM TOUR
The view was spectacular! 
Being on the eleventh floor, we had a stunning, picture perfect view of the sunrise each morning.
Here's some fun news!  The Caravelle Resort itself will be celebrating 60 years of service next year!  Happy early birthday, Caravelle! Now, while it does show its age to some degree, the resort has been undergoing renovations to keep guests coming back and comfortable.  We happened to be in one of those renovated rooms.
On the main building's property, guests can find a game room, fitness room, seasonal gift shop and seasonal ice cream parlor on the ground level.  Our particular building (out of the nine) had two pools, one indoors and the other outdoors, as well as a lazy river and hot tub.  The restaurant on site is called Santa Maria.  Here, guests can enjoy a hearty buffet or have Judy or Robert serve up a friendly smile with a made-to-order omelette or batch of freshly made waffles.   Since there is so much more to share, I'll go into more details about the resort and its offerings in another post.  Stay tuned!
In fact…
I can't wait to share The Caravelle Resort's involvement with various charities!  Over the years, they have raised money for organizations such as The March of Dimes, The American Cancer Society and Backpack Buddies!
So, if you're looking for a place to stay that is centrally located, The Caravelle Resort is perfectly situated between Barefoot Landing and The Boardwalk, making it easy to get anywhere.  With easy access to the beach, it also makes for a very convenient walk along the water's edge.  Whe it comes to shopping and dining, we found a grocery store or two and a pizza joint within easy driving distance!
Be sure to check out the website as you begin planning your family friendly adventure to Myrtle Beach.
***********************
***********************
Looking for someone to help you with planning a trip out to Myrtle Beach?
So, there you have it ~  a short glimpse into some of the fun we had as a family in Myrtle Beach, South Carolina.  In planning the trip, I had the pleasure of working with Susan from Vacation Myrtle Beach.  Susan took care of every last detail and set up all of our activities.  I had nothing to worry about except to show up to each venue.  Feel free to give their website a glimpse to see all the all the latest deals, specials and opportunities that await your family in this east coast treasure chest of fun.  Despite a busy weekend, there are still many more adventures for our family to enjoy, so we plan on venturing back to Myrtle Beach in the future for sure!
Is Myrtle Beach on your family bucket list?  Which of these above adventures intrigues you?
CHECK THIS OUT!!!
Vacation Myrtle Beach is giving away an Oceanfront Condo, valued at nearly $100,000 (or $50,000 CASH, winner's choice)!!!  One lucky winner will own this condo (this is not a timeshare).  For more details, all you have to do is click the graphic or click this link:  The Great Vacation Myrtle Beach Condo Giveaway.  Good luck, everyone!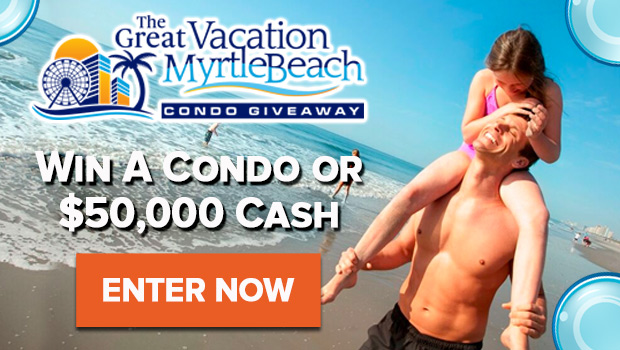 ---
BE SURE TO FOLLOW FOOTPRINTS IN PIXIE DUST ON: