---
Disneynature has brought the world to us nearly every year in ways only a Disney creative can.  Through meticulous patience, exquisite footage and spectacular writing, the team behind these films is dedicated to enabling us to see past the photos and take us into the genuine habits and lives of animals around the globe.  By simply sitting in a theater, audiences are treated to an informative, educational, hilarious and heartwarming real-life adventure that is both astonishing and eye opening.  It is impossible to not walk away totally in love with the "cast."
---
I was invited as media to attend this screening.  All opinions are mine and mine alone.  This post does contain affiliate links.  Please see my Disclosure policy for more information.
---
DISNEYNATURE
Over the course of the last ten years, Disneynature has shared the lives of monkeys, bears, pandas and more.  If you think about it,  it's hard to fathom the jaw-dropping experiences and stories these photographers, storytellers and teams have to tell.  They go face to face with these gorgeous, sometimes dangerous, creatures, only to provide us with mesmerizing opportunities to sneak a peek into those beautiful eyes and inside their remarkable survival.
DISNEYNATURE PENGUINS
This year, Disneynature brings us on a marvelous adventure to frozen Antartica, where we have a front row seat to catch a glimpse of what life is like for the Adélie penguin.  The film shares with us the captivating coming-of-age story of Steve, a young Adélie male penguin, as he embarks upon his very first journey to find a life partner and start a family.
To be honest, the story took me completely by surprise.  I expected more of a documentary (which is part of the reason my family skipped out on me), but I gained a whole new perspective and came to adore the star of the show instead.  For 76 minutes, I was entranced by a single cold-weather bird who made his way across the icy Antarctic spring, found a suitable spot to build a perfect nest, wooed a life partner and became a father.
None of that was easy, of course.  Steve had to face predators, competitors and (gulp) the art of impressing the opposite sex.  There are certainly nail-biting moments within the movie and even a spot where it seemed the entire audience was holding its breath for a scene to resolve.  The entire movie is intriguing.
But what did I truly love about the movie????
I loved the journey
There is something satisfying about seeing a journey from beginning to end.  Disneynature brings that satisfaction to us by taking us along on the annual life cycle of an Adélie penguin.  We follow Steve and his compadres on their yearly trek across the frozen world of Antartica to the spot where they will prepare to mate and raise their young before returning to the open waters.
I loved the story
It's one thing to communicate the life cycle of an animal.  However, to tell it like it has a beginning, middle, end, emotions, intrigue and more ~ just makes it a gem.
This story is told through the eyes of a first time trekker, Steve.  We get to witness his wins and many of the obstacles as he learns to find his footing in all of this.  We watch him as he diligently seeks to find his very own first spot of ground. Once he finds that spot, we watch as he locates the perfect rocks to build that attractive first nest.  Once the females arrive, we listen as Steve croons for the first time, winning the affection of Adeline (by the way ~ she's rather shy, but says quite a bit with her eyes).  Ultimately, we watch as Steve becomes a first time "dad."   He stumbles and acts clumsily, but enjoys the ride and does his best.  The audience is given every reason to smile, tear up, wonder and sigh ~ not to mention RELATE!
I loved the narrative
What is unique about Disneynature films is the way the story is told.  We've seen many celebrities voice over Disney characters, but nothing is quite as unique as watching a "Disney-mentary" (like that word??) with creative narration.  Ed Helms, well known (at least to our family) for his role as Andy Bernard in The Office, brilliantly narrates the scripted story and colors Steve's adventure with curiosity, bravery, pride and excitement.
I also loved the focus
Most films like this have a clear cut social statement to make.  While I have no doubt Disney has a clear message to convey, I love that this film wasn't designed as a slap in the face.  Instead, it tugs on our heart strings.  It instills in us a love for these adorable animals we rarely see outside the confines of a zoo or aquarium.  We get the chance to witness their habits, their struggles and their relationships through actual footage of their genuine life cycle.  The focus Disneynature places is on their lives and habits, not ours.
Out in Theaters!
Disneynature PENGUINS will be out in theaters April 17th.  For every ticket sold opening week (between April 17th and 23rd), Disneynature will make a donation to the Wildlife Conservation Network.  These funds will go to help protect penguins around the globe.
To learn more about Adélie penguins and their home in Antartica, visit Nature.Disney.com/Penguins.
***********************
Disneynature PENGUINS is a beautiful telling of an actual story.  It shares how a young Adélie penguin takes his first steps into adulthood and fatherhood.  I kid you not.  It's captivating, astonishing, mesmerizing and will, no doubt, have you adoring penguins before you walk out of the theater.
Are you planning on seeing Disneyature PENGUINS?  Have you seen the other films Disneynature has produced?  I'd love to hear which one has been your favorite to date!!  Since this was my first, I have some catching up to do ~ which one should I see next?
DON'T FORGET EARTH DAY APRIL 22ND!!!
You can follow along the adventure on:
---
Looking for some fun?
Take a peek at these activity sheets – mazes, spot the difference, games and more!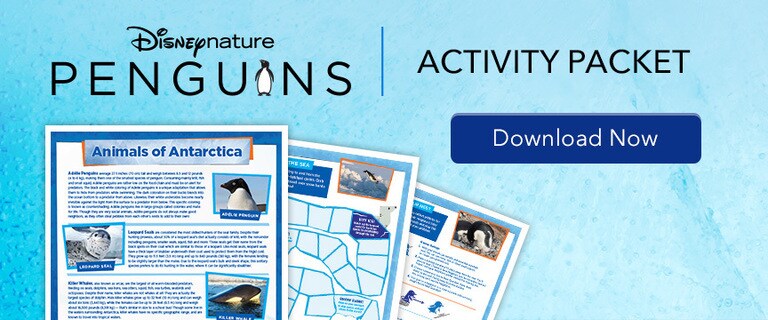 ---
AMAZON PICKS
---
BE SURE TO FOLLOW FOOTPRINTS IN PIXIE DUST ON: