It seems like yesterday we were all drying our eyes from watching the absolutely spectacular and satisfying capstone to the Avengers series.  Believe it or not, it's already time for Avengers: Endgame to hit our personal video libraries and fans everywhere are assembling once more to watch its in-home release.  Well, nothing goes better with an in-home movie than some couch potato snacks and a fun craft.  Right?  In celebration of the movie already arriving on digital and coming to Blu-ray, DVD and 4K on August 13th, here's a Black Widow themed meat and cheese plate and DIY Black Widow belt project.  Okay ~ well, maybe the craft is for the kids, but it's still a fun project to undertake!   Check out the Avengers: Endgame Recipe and Craft below!
---
Working in partnership with Click Comm.  All opinions expressed are 100% mine and mine alone.  This post does contain affiliate links.  Please see my Disclosure policy for more information
---
AVENGERS: ENDGAME RECIPE AND CRAFT
Okay, so there is likely no reason to claim a "spoiler-free" post, even though I'm sure there is someone out there who has yet to see the movie.  (Check out my movie review here) Needless to say, I don't think it's too much of a secret to share that Black Widow played an integral role this go round.  To honor her efforts and the news that HER story will be played out on screen soon enough, I have this mouth-watering meat and cheese plate design inspired by the heroine herself.   It is a perfect munchie plate for when you are sitting back with the fam to watch the movie in the comforts of your own home.  To go along with it, I have some fun instructions on how to make a DIY Black Widow Belt, too!!!
Just in time for Halloween, too!  Bonus!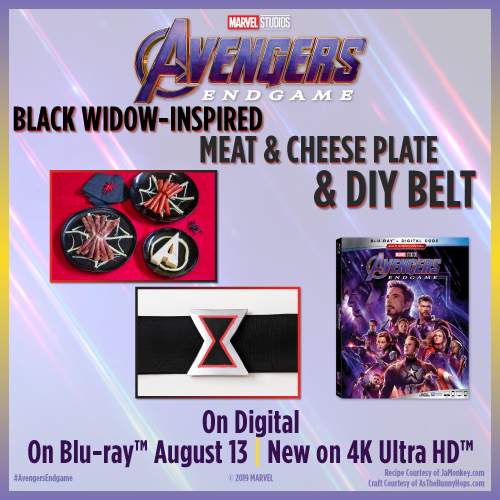 All you need to do is simply download these activities at http://bit.ly/AvengersEndgameActivitiesBlackWidow or just click the graphic above.  It's THAT easy (much easier than it was to process everything we saw in those movies!!)
AVENGERS: ENDGAME is on Digital now and will be available on Blu-ray™ August 13th ( New on 4K Ultra HD™)
More about the Avengers: Endgame in-home release…
MARVEL STUDIOS' CLIMACTIC CONCLUSION TO 22 FILMS AND ONE OF THE TOP FILMS OF ALL TIME
Extras celebrate Stan Lee, Iron Man, Captain America, Black Widow, Thor, the women of Marvel, the Russo brothers, deleted scenes and gags — and early Digital viewers receive an exclusive Steve and Peggy featurette
"Marvel Studios' "Avengers: Endgame"is the climactic conclusion to an unprecedented, 11-year cinematic journey in which the Avengers take one final stand against Thanos.  The film delivered the biggest opening weekend in history and is currently one of the highest-grossing films of all time. 
Fans who bring home "Avengers: Endgame" will gain HOURS of additional screen time with their favorite cast members and filmmakers who have shaped the Marvel Cinematic Universe (MCU). 
Bonus features include (Just an FYI ~ may vary by retailer):

Digital Exclusive:
Steve and Peggy: One Last Dance – Explore Captain America and Peggy Carter's bond, forged in moments from previous films that lead to a momentous choice in "Avengers: Endgame."
Blu-ray & Digital:
Remembering Stan Lee: Filmmakers and cast honor the great Stan Lee in a fond look back at his MCU movie cameos.
Setting The Tone: Casting Robert Downey Jr.: Hear the tale of how Robert Downey Jr. was cast as Tony Stark in the original "Iron Man" and launched the MCU.
A Man Out of Time: Creating Captain America: Trace the evolution of Captain America with those who helped shape the look, feel and character of this compelling hero.
Black Widow: Whatever It Takes: Follow Black Widow's journey both within and outside the Avengers, including the challenges she faced and overcame along the way.
The Russo Brothers: Journey to Endgame: See how Anthony and Joe Russo met the challenge of helming two of the biggest films in cinematic history … back-to-back!
The Women of the MCU: MCU women share what it was like to join forces for the first time in an epic battle scene and be part of such a historic ensemble.
Bro Thor – His appearance has changed but his heroism remains! Go behind the scenes to see how Bro Thor was created.
But wait – there's more!!!!
Six Deleted Scenes:

"Goji Berries"
"Bombs on Board"
"Suckiest Army in the Galaxy"
"You Used to Frickin' Live Here"
"Tony and Howard"
"Avengers Take a Knee"

Gag Reel: Laugh along with the cast in this epic collection of flubs, goofs and gaffes from set.
Visionary Intro: Intro by directors Joe and Anthony Russo.
Audio Commentary: Audio commentary by directors Anthony and Joe Russo, and writers Christopher Markus and Stephen McFeely.
While Enjoying Your Avengers: Endgame Recipe and Crafts ~ Enjoy some bonus bloopers, too!
---
Purchase Your Favorite Avengers Movies Today!!
<
  <
---

BE SURE TO FOLLOW FOOTPRINTS IN PIXIE DUST ON: